By Chef Alex Raij.................as seen in the WSJ.
This recipe originally intrigued me because it uses extra virgin olive oil to poach fish!
I've made a few tweaks and used Halibut or Cod and it comes out just marvelous!
Total Time: 40 minutes
Serves: 4
Needed:
4 Lg. bell peppers
2 cups of extra virgin olive oil plus more as needed
4 garlic cloves, smashed
1.25 lbs. of fish (Halibut, Hake, or Cod) Cut into 4 equal pieces
1 tsp. of Sherry vinegar
Using a grill or broiler, under high heat char the peppers until blackened. Transfer them to a bowl, cover w/ plastic wrap and let steam for at least 10 mins.. Working over the bowl, peel away the skins from the peppers, tear in half discarding the seeds and stems. Further tear peppers into 1 1/2 in. strips and add back to the bowl with juices.
Heat the EVO in a wide pot under low heat, and add salt and garlic cloves. Add peppers to the pot and reserve the juice in the bowl for later.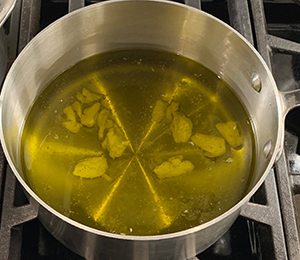 Gently simmer until peppers soften and flavor the EVO, about 15 minutes. Oil should have small bubbles coming to the surface and burst occasionally.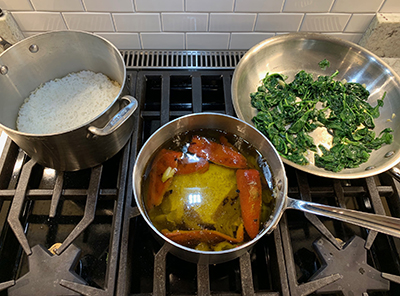 Season fish with salt, I like to rub Rice vinegar over the washed and dried fillets (Mrs. Wong's favorite trick) and place in the pot. Poach fish gently until fillets are tender and flake easily, about 5 minutes.
Once fish is cooked, remove from pot and drain somewhat, add the cooked peppers, add the Sherry vinegar, reserve pepper juices and salt to taste. Pour some of the EVO over the entire plate and enjoy.